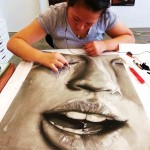 Class Cancellation
We will post here for any class cancellations due to the inclement weather by noon for the week day classes, and one hour before the weekend classes. Please follow the "Tuition & Regulation" page for make up class.

Annandale Location Closing
Due to the ending of our lease agreement at the J Art Studio location in Annandale, with a heavy heart and much sadness, we decided to close the Annandale studio on May 30, 2018. The last day of classes at our Annandale location will be on Saturday, May 19, 2018. We also could not be more thankful to all our wonderful students (past and present) with whom we have shared beautiful memories together. We thank you for believing in us and being with us all these years. Our Chantilly and Centreville locations resume with our regular schedules and upcoming summer camps as well.

Summer Camp
We are excited to present our summer camps for all ages. Please check out the information and if you have any questions, don't hesitate to call.
Summer Art Program 

jartstudio@gmail.com
Please email us with any inquiries.