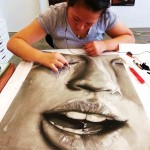 Class Cancellation
We will post here for any class cancellations due to the inclement weather by noon for the week day classes, and one hour before the weekend classes. Please follow the "Tuition & Regulation" page for make up classes.

Annandale Phone Number
We have changed the phone number of Annandale location. It is same as Chantilly location; (703)961-9039.

Spring Camp
Spring Camp is coming between March 26 and March 30. We will post the information for 2018 Spring Camp soon. Be back to check on it.
jartstudio@gmail.com
Please email us with any inquiries.